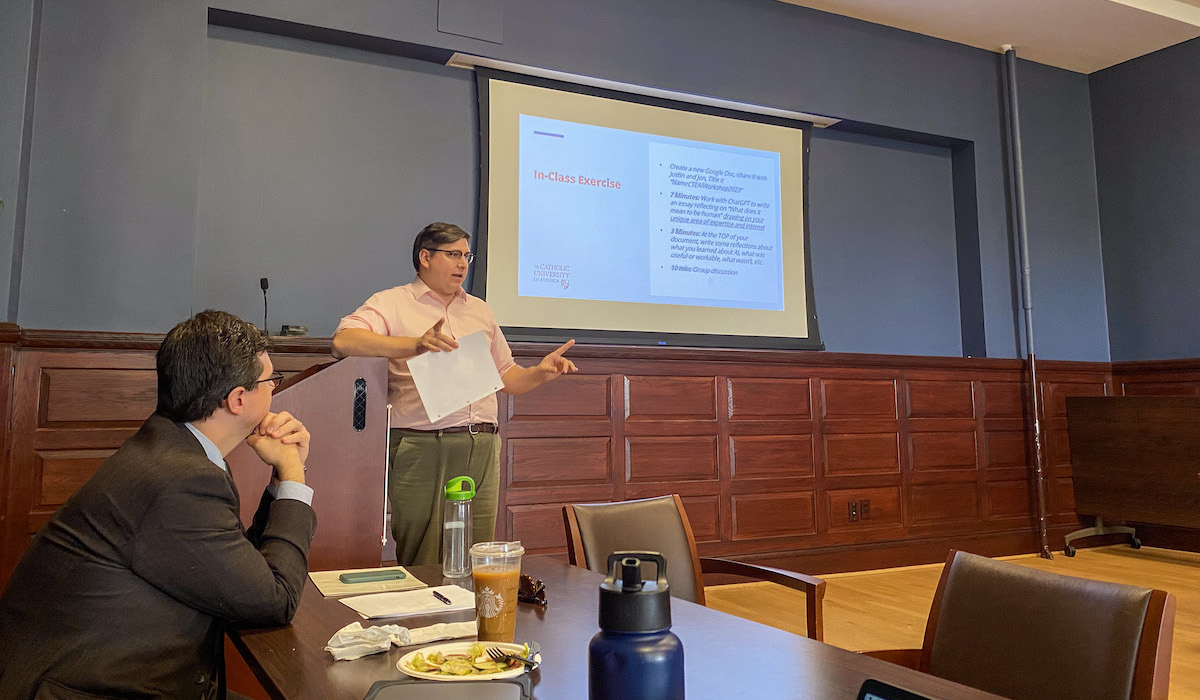 Fifteen faculty members gathered in the Monsignor Stephen P. Happel Room in Caldwell Hall on October 4, 2023. This workshop, the second in a series, was led by CTE Faculty Fellows Dr. Jonathan Askonas and Dr. Justin Litke from the Department of Politics. Participants hailed from various academic departments, including Business, Education, Engineering, English, Greek and Latin, History, Nursing, Philosophy, Politics, and Mullen Library.
The participants began by discussing a selection of Ivan Illich's 1993 book In the Vineyard of the Text and the address to educators given by His Holiness Pope Benedict XVI (2008) at The Catholic University of America. In his address, His Holiness emphasized the importance of "intellectual charity" in education. This approach unites disciplinary knowledge with moral knowledge and the life of faith and encourages students to use their freedom wisely, thus making positive contributions to society and fostering hope. The address also underscored the Church's vital role in education by providing essential moral guidance, upholding high standards, and promoting a commitment to truth and faith in society. Dr. Litke highlighted Benedict's emphasis on personal integrity and wholeness and called out the numerous ways that AI-assisted plagiarism puts this integrity at risk in higher education.
A Discussion on Plagiarism, Old and New
Dr. Askonas and Dr. Litke highlighted the need to transition from grading artifacts produced by students to making judgments in the digital era about student learning. They emphasized understanding how students have internalized knowledge and how it can be applied and extended. Dr. Sarah Ferrario, Associate Professor and Chair of the Department of Greek and Latin, echoed this sentiment, stating:
"As digital resources and digital tools are playing increasingly complicated roles in the development of nearly all academic work, it might be time to think more broadly about how we want students to demonstrate their integrity as researchers, writers, and creators. Perhaps it is not only about the avoidance of theft (which is still essential), but increasingly also about the transparency of ownership. What do you, as a student, legitimately possess in terms of knowledge and skills? What tools, resources, and methodologies did you use to get there? How can you both document that and demonstrate it?"
Dr. Megan Murton, Associate Professor of English, underscored the importance of diligently teaching writing, emphasizing the critical need for academic integrity and cautioning against the risks of students over-relying on AI:
"Writing is inseparable from critical thinking. It's difficult to express complex thoughts in coherent sentences and paragraphs, but until you've gone through that process, your thoughts aren't fully formed. I strive to help my students embrace the writing process as a healthy struggle through which they figure out what they really think."
Pedagogy Towards Academic Honesty
With the advent of AI, educators must adopt strategies that not only ensure academic honesty but also align with the educational end goals. Starting with well-defined learning goals, objectives, and outcomes is crucial for effectively guiding students; learning. Goals establish broad expectations for a course, while objectives more specific than goals, outline the intended instructional results. Lastly, outcomes indicate the evidence required to demonstrate the achievement of set goals and objectives.
To foster academic honesty in this framework, educators can:
Engage students with live assignments, oral exams, and cooperative in-class quizzes.
Design scaffolded assignments requiring annotated bibliographies and graded drafts.
Employ assessments that holistically reflect students' personal transformation toward learning goals.
Assign readings and work with materials that are access-restricted and can only be sourced through the library, as Large Language Models (LLMs) typically do not have access to such resources.
These pedagogical strategies not only promote honesty but also align with the educational goals of the university as a Catholic institution, providing a clear roadmap for students to navigate their learning journey effectively and ethically and toward the Truth that animates CUA and the life of the Church as a whole.
11 Ways Students Use LLMs
Dr. Askonas spoke about the ways that students are using LLMs:
Essay writing: Students may ask LLMs to write material for them, possibly copying and pasting the assignment instructions.
Clarify concepts: Students can request explanations of complex concepts to enhance understanding.
Solve equations or interpret computer code: Students can seek help with math problems and equations.
Proofreading: LLMs can review students' written assignments for grammar and style, offering specific improvements.
Re-writing: Students can have LLMs rewrite an existing text in a different style.
Brainstorming ideas: LLMs can help generate ideas for essays, projects, or presentations.
Language translation: LLMs can translate text or phrases to or from another language.
Summarize content: LLMs can condense lengthy articles or chapters into shorter summaries.
Provide examples: Students can request examples to illustrate key points in their assignments.
Research assistance: Students can request relevant sources or information for their research.
Coding help: Students can receive assistance with coding problems and debugging.
Conclusion
Navigating the challenges and opportunities presented by AI in education, the workshop emphasized the importance of preparing students to be discerning and ethical professionals in a digital world. In the new environment, it was argued, it is more important than ever that professors know, understand, and advocate for their own pedagogy and its aims. Explicit communication of learning goals, objectives, and outcomes is paramount for educators, as is developing the pedagogy to achieve them. All faculty members are encouraged to engage in upcoming workshops, contributing their insights to this crucial conversation.
References
__________
Dr. Diego A. Boada is an instructional designer at CTE. He specializes in finding scalable solutions for learning and performance problems in multicultural environments. Dr. Boada has designed online learning experiences for universities, startups, and organizations globally; consulted for the Inter-American Development Bank; and collaborated with Silicon Valley leaders.