What is LinkedIn Learning?
All students and instructors at The Catholic University of America have free, unlimited access to LinkedIn Learning, an online video training library that provides opportunities for learning and skill enhancement. Follow this link to learn more about how to log in to LinkedIn Learning.
LinkedIn Learning's Benefits for Instructors and Students
Instructors and students can learn online at their own pace, with their library of more than 7,500 courses and more than 200,000 videos on diverse topics, including instructional design, pedagogy, and online teaching and learning. The courses are often broken into short microlearning sessions, making it easy to fit learning into your busy schedule. All of the courses are taught by expert instructors, and curated playlists are also available. Instructors can also embed links to relevant LinkedIn Learning videos in your courses so students can view them. All courses come with fully searchable transcripts, an important accessibility feature that aids in differentiation for students with learning differences or who use assistive technology.
Curated Content Collections
LinkedIn Learning has curated content collections designed to enhance an instructor's teaching skills. Here are a few examples to get started with. Click on the image to go to the content collection.
You might be asked to log in first. Not sure how? Follow this link to learn more about how to log in to LinkedIn Learning.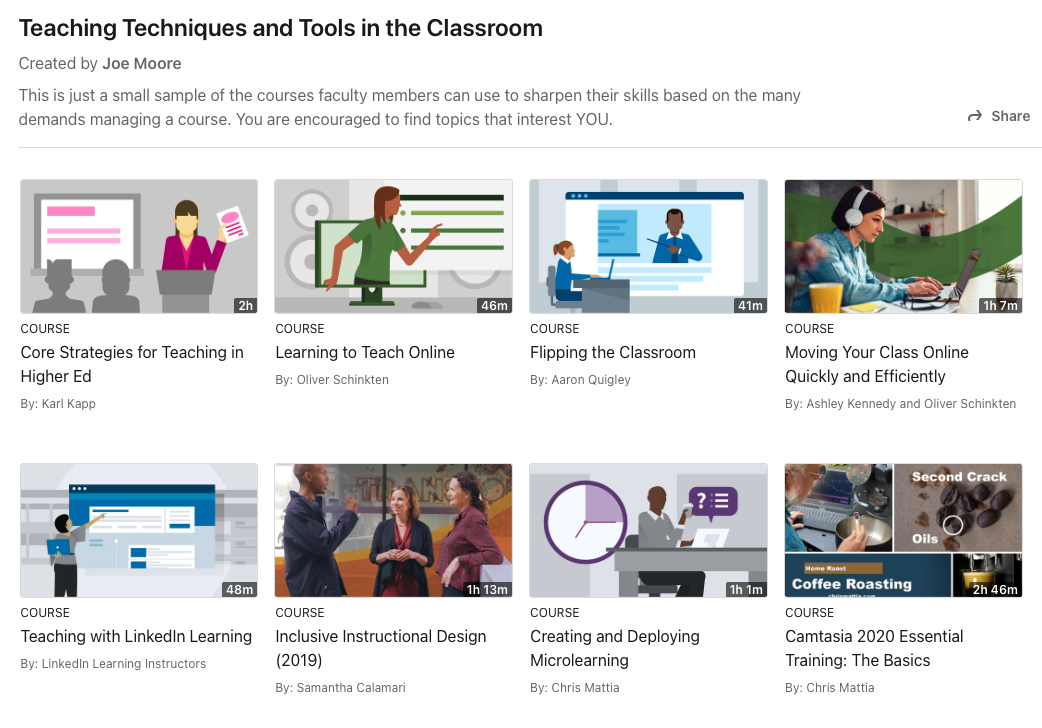 How to Put LinkedIn Learning Courses in Cardinal Learn for Students
Follow this link to learn more about how to add entire LinkedIn Learning courses to a Cardinal Learn (Blackboard) course, as well as how to add specific videos from a LinkedIn Learning course.
Need Help?
For questions about LinkedIn Learning or account assistance, please contact
lib-research@cua.edu
.